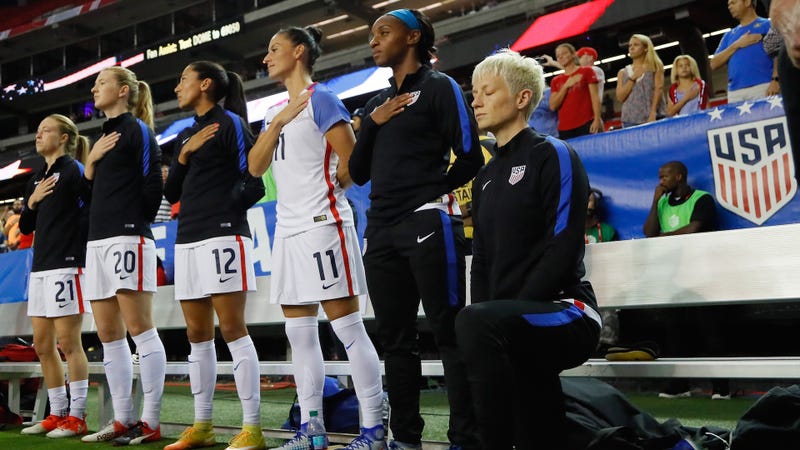 Megan Rapinoe might be forced to join Colin Kaepernick in standing for the national anthem going forward.
U.S. Soccer has adopted a policy that will require players, coaches and anyone involved with the national teams to "stand respectfully" during the playing of any national anthem. She was in camp with the team earlier this year but was not selected for the SheBelieves Cup, a three-game tournament the U.S.is now hosting.
"All persons representing a Federation national team shall stand respectfully during the playing of national anthems at any event in which the Federation is represented", new policy 604-1 states.
The new rule is presumably a response to Rapinoe taking a knee during the US national anthem before multiple national team games starting on September 16 against Thailand.
Coyotes player leaves on stretcher after massive hit by Bruins player
The 25-year-old was picked up off waivers by the Coyotes this season after he was released from the Winnipeg Jets. Hockey fans immediately got in on the conversation saying Miller's hit was nothing but clean.
Fox Soccer's Stuart Holden tweeted this photo with the policy from the AGM.
The new policy was revealed at the national federation's annual general meeting in Hawaii after being approved by the board of directors on February 9.
The new policy was revealed by the U.S. federation during their AGM in Hawaii this weekend. She also protested with her club team, the Seattle Reign, several times in the fall.
It's unknown whether the other athletes like Rapinoe who joined the protest, which ranged from those in the professional ranks to high school sports, will follow suit.